As many of you know, I have been on a long break from triathlon racing. Four years ago, the double insanity weekend marked the tenth and – so far – last IRONMAN triathlon in as many year. But my love affair with endurance racing remained, and I hand great fun in various 12- and 24-hour races. And I never strayed too far from triathlon, leveraging my experience to kickstart my photographic career with a strong focus on sports and portraits of athletes.
When I read about a new 70.3 in Zell am See, Austria, something clicked: motivation reborn. A place with so much scenery it almost hurts, and one that is filled with fantastic memories of skiing with my buddies? Count me in! You know, just for old times' sake, to see if it still feels like it used to. (can you spot the addict?)
The long term preparations were great. Inga and I are on our bikes year round anyway, so we just added a few more runs than usual, and I even taught her freestyle swimming in winter. Then, as the new year came around, my plans for a reduction of work hours didn't quite materialize, and I was pretty much left with two full-time jobs and not too much time for training.
The first casualty was swimming. At the end of the day, I have been swimming five or six times in the last six months. Nope, not per week or month. In total. Running worked out better – I just swapped the bike commute for the occasional 14km run to the office and/or back. And cycling remained strong as ever, which very certainly saved my butt.
A trip to Iceland in the weeks prior to the race probably didn't really help either, and even less so spending two weeks sick in bed afterwards. But hey, that's how life is: always expect the unexpected!
Anyway, enough sandbagging. Let's hear about the race, shall we?
We arrived in Zell am See on Friday night to a mixed weather forecast. I checked out the swim on Saturday morning before doing the registration & race briefing dance. In recent years I've often attended these briefings to take note of photo ops on the course, but it's funny how differently you listen when you're actually racing.
One should think that after more than a decade of racing, preparing your transition bags would be something you can do blindfolded at 3am… well, not after a long break. I was positively certain that I'd forget something important. That is, in addition to the start number belt that was still safely stored away somewhere at home, probably with a number still attached. It seems like I wasn't the only guy with that problem though, because all the stores were sold out. Alright! We just picked up some elastic shoe laces and fabricated one ourselves (that worked great, by the way).
Then, the obligatory short bike ride to make sure everything was set up correctly, on which I took a wrong turn and promptly got lost and almost ended up riding the Großglockner Hochalpenstrasse. Ian would approve, but sanity prevailed and I found my way back to the hotel. The bike had performed perfectly, and I was ready to check in.
The lines were pretty much as long as I remembered them, and fairly painless. The transition zone was as large as one would expect for 1800 athletes, but easy to navigate. I traced my path for both transitions to make sure I'd find my way in the mental fog of a race, picked up my timing chip and was all set and ready to REALLY get nervous about all the things I might have forgotten.
Race Day
My age group was seeded with the first wave at a very comfortable 10am. I'll have to admit, it is really quite nice to actually catch some sleep rather than having to wake up at damned o'clock for a 7am Ironman start. Got up at a decent 6:15, had a light breakfast and off we went to the start area, a delightful 15 minutes' walk. At the time, the weather was still looking fairly promising. Checked tire pressure, put GoPro #1 into its cradle below the aero bars, visit the loo approximately 37 times. Chat with five hundred people I knew. Finally put on wetsuit. Put GoPro #2 on head, asked Inga to turn it on. Waited for some race marshal to come screaming about dangerous devices during the swim. Noticed that apparently it's now just a few minutes to the start. Funny how time stretches in those moments. So I said good luck to the (many) other athletes I knew, gave Inga one last hug, and waded into the water.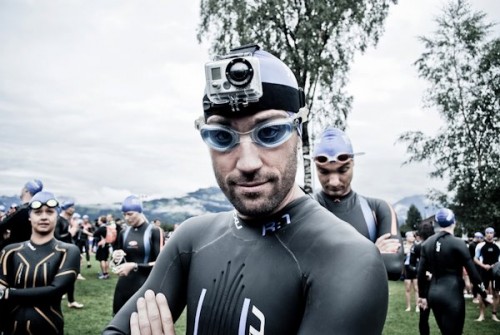 I had no clue whatsoever how fast I'd swim – my plan was to just take it easy and hope for something between 35 and 40 minutes. That sounded realistic given my pool mileage (zero) and the fact I had a hydrodynamic obstacle strapped to my head to document the ordeal. I seeded myself way in the back and to the side, hoping that I'd avoid the obligatory mayhem and get to keep my camera throughout the swim (it was secured with an extra strap, but you never know).
Boom, and we were off.
The Swim
I started swimming, hesitantly at first but soon noticing that I was actually passing people. It is never possible to avoid all contact, but I only really swam over one guy that veered sideways just as I was passing him. If that was you, sorry!
The camera was barely noticeable, and I settled into a comfortable pace. Navigation was easy: about 900m straight out to the orange buoy, a sharp left corner and maybe 200m to the next, and then another straight line back to the swim exit. It doesn't get much simpler than that unless you want to flip off a wall every 25 or 50 meters. And even then, the water you'd inadvertently swallow from time to time would taste like crap chlorine, and not come from a crystal clear mountain lake.
After the second turn, either I got slower or the fastest swimmers from the next wave (5′ behind) caught up. Well, that was expected – and actually I had thought I'd see them much sooner. So I ended up in a nice group that I couldn't quite keep up with but that pushed me to swim a little faster.
T1
Out of the water, I quickly found my bike bag and entered the changing tent. Put the camera down and caught a glimpse at the recording time. 44 minutes? Not quite what I had hoped for, but still quite okay given the circumstances. Then it dawned on me: the camera had already been running for a few minutes before the start…
Socks, shoes, helmet. Start number! Many athletes were reaching for arm warmers or jackets. Fumbled with the camera to get it off the head band and onto the helmet mount. Grabbed the banana I had put in the bag, and went off to the bike!
The Bike
As I got on the bike, the weather looked pretty nice. Cool, overcast but seemingly dry. Perfect for a little ride! Sure, I felt a bit cold, but as long as it didn't rain and I'd ride hard I'd get warm in no time.
Too bad nobody told my legs about that plan, or the weather.
The first two kilometers of the course were on a relatively small path until you reached the main roads for the actual 43km loop. Many other athletes had exited the water with me, so there was quite a bit of traffic on that segment. I had the feeling that everybody was trying to be fair and avoid drafting, but it wasn't easy. Once we'd gotten on the main roads it got better, as the course was completely closed and there was plenty of room to pass – so most of the packs sorted themselves out fairly well – or those who were willing to do so anyway.
After getting onto the main road, the course meandered between a few smaller towns. Somewhere along the way I found my legs and got up to speed. Just in time for a light drizzle that would turn into heavy rain later, and cause numerous crashes on the course. Hopefully nobody was seriously injured; I saw the SAR heli a few times but suspected they were airlifting people to the hospital mostly because all the roads were closed.
After maybe 15km there was the only marginally significant uphill section of the course, a short climb towards Kaprun. In stark contrast to other Austrian courses (like Klagenfurt), this one really was very, very gentle. Seriously. So much so that it wasn't necessary to even think about leaving the big chainring.
What goes up must come down, so we were also treated to a descent that would have been more fun in dry weather, but wasn't all bad.
I failed (twice!) to grab a piece of banana at the first aid station on the loop (a telltale sign of being cold), but got a PowerBar instead. Works for me, as long as it isn't Cookies & Cream, which I find inedible. My nutrition scheme was very simplistic: Banana in T1, another banana or bar on each bike loop (so about 20km and 65km into the race), drink whenever thirsty, and the occasional Coke on the run.
After the aid station, the course made a relatively straight line through Zell am See and onward before looping around the lake and back to the start. A few corners, but mostly a 'keep your head down and pedal' type of course. Miraculously I still caught a glimpse of Inga in Zell, sporting her super fashionable (and easily recognized) rain parka. Talking about catching a glimpse, too bad the weather didn't play along, because I know the area from many winter trips and the view would have been spectacular in better conditions…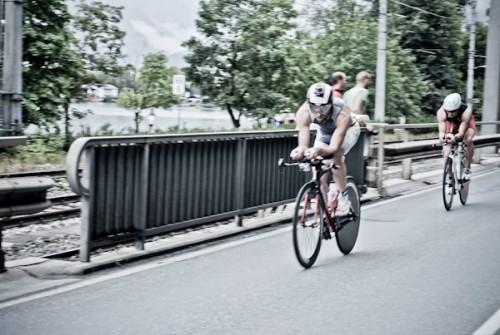 On the second lap, it was really pouring down. I was wearing a helmet with an integrated visor (a Casco Warp), which was great because the huge visor kept all the water out of my eyes, but also a curse because the interior fogged up when I wasn't riding fast enough to create a little ventilation. Like, because I couldn't see so well because the interior fogged up. Oh well.
I had planned to replace the battery in one of my cameras about halfway through the second lap, so I stopped at a convenient location for that. It took maybe three minutes including a quick pee, but when I got back onto the bike I was cold and shivering. Alright, back up to speed… it took a while, but riding hard really did help, and maybe ten minutes later everything was back to normal(ish).
The second lap was over in a blur, and I headed back towards the transition zone, ready to open my shoes on the bike as any self respecting triathlete would do. Too bad my left hand was still feeling cold; it took me four or five attempts to open the shoe (yep, a regular road cycling shoe, none of that triathlon-specific magic) and slip the heel out so I could actually dismount properly. It ultimately did work, and I jumped off my bike to push it back to its parking position.
Through ankle deep mud.
T2
Of course, it had also rained onto T2, but in contrast to most of the roads the water had just decided to hang around on the grass plains. So, like many triathletes I plodded my socked feet through deep water and mud to pick up my run bag and head into the changing tent. A lot of people there were struggling with the conditions, and I'm pretty sure not everybody in there continued on to the run.
I had had the presence of mind to put fresh socks into the bag, but figured they'd be just as soggy within five minutes and left them. So, off went the helmet, on came running shoes (funny how long it can take to tie two knots), a buff, cap and sunglasses. Yeah, that's how much of an optimist I am. Oh, and of course a Chesty harness for the camera (transplanted from the helmet).
The Run
Similar to the bike, the run consisted of a 3km 'access' section along Lake Zell that led away from the transition zone into the city, and then three loops of 6km each that curved about in the city center before stretching into an out-and-back section along the northern part of the lake. The surface was probably about half roads and half gravel (of which significant parts ended up being submerged in rain water). A great, diverse run course with tons of spectators (despite the rain!).
As with the swim and bike, I had decided to forgo any and all stopwatches, heart rate meters or other devices – just find out what feels right for the moment and run with that. So I had no clue how fast I was running; there was this minor indicator that I seemed to be passing more runners than were passing me, but that could change very, very quickly.
I picked up Coke at the aid stations and made my way around the first lap, waiting for the moment where everything falls apart. It didn't really come yet, except that the short but steep uphill parts of the course hurt more than the first time around. On the second lap, I heard a few friends who were spectating, and from their voices I realized that I was apparently doing okay. Grabbed a gel and some water for a change and hoped to keep up the pace.
On the last lap, I heard Inga shout "4:30!!", but it took a while to process that information. Would I need 4:30 splits per km? what for? And could I still run that fast? Probably not. Or maybe that was the race time? Okay, with about 6km to go, a sub-5 time seemed possible. If only I knew how fast I was running…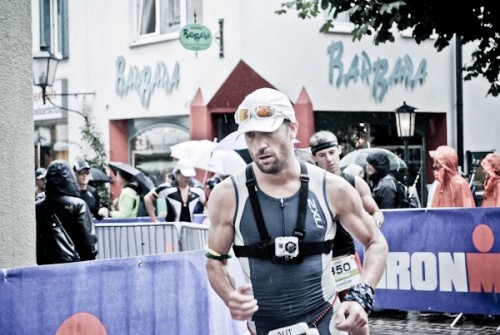 Well, the solution was simple: go faster. A risky bet, because at this point my legs were pretty much completely shot – and having to walk off a cramp could easily spell disaster. So, gently.. a little bit faster. With 4km, another. 3km, nah too risky I'll just try to keep the pace. 2km, I wish I could but the run path is way crowded… 1km – ok, here goes nothing. Make it up that steep ramp, turn LEFT instead of right like before and enjoy the last few hundred meters to the finish.
I couldn't read the time, but it didn't matter. I had finished, and despite the crappy weather I had enjoyed every single moment of the race. Better yet, Inga and my parents were there to share the moment with me.
The Aftermath
It is hard to describe how I felt at the finish line. After four years, the memories of the emotions you go through in events like this are slowly fading away, but they all came back in a rush – together with the realisation that against all odds, everything had come together perfectly, and I had equalled or surpassed even my most optimistic estimates for every single part of the race.
Of course, the question that presents itself almost immediately is: what would have happened with proper preparation? With a training that follows a plan, that includes swimming, long rides on the tri bike, speedwork on the run and brick workouts?
I'm not sure if my work obligations will allow me, but I am pretty sure I want to find out.