Was für ein Land!
What a country!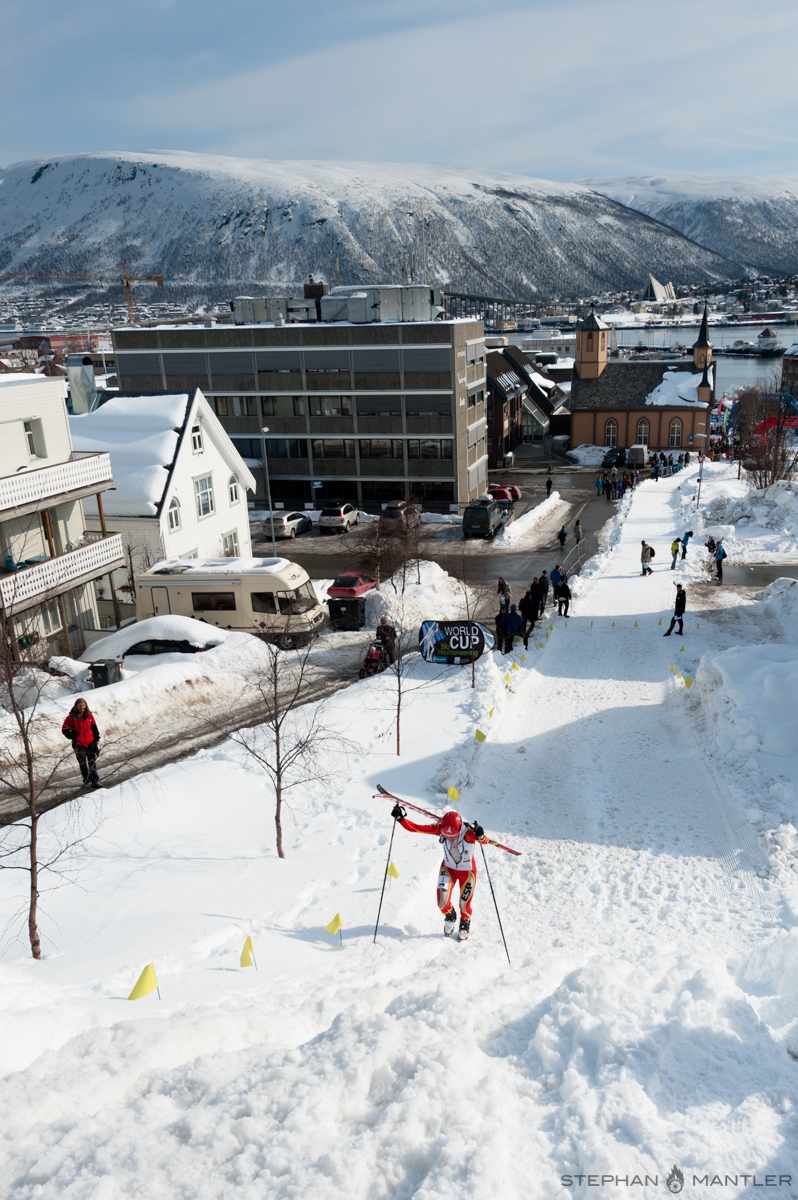 Das Format der Sprintrennen ist auch für Fotografen und Zuschauer sehr spannend – mehrere Durchgänge erlauben viele Perspektiven, und die Athleten starten in kleinen Gruppen und geben auf der kurzen Strecke wirklich Vollgas. Genial!
The format of sprint races is great for spectators and photographers alike – multiple heats allow you to experience the event from various perspectives, and the athletes race in small groups and really go full throttle on the short track. Awesome!
Das Einzelrennen am Sonntag bot dann eine ganz andere Perspektive, fernab der Zivilisation. Für Fotografen war auch diese Strecke fast perfekt – mit wenigen Positionswechseln konnte man die Teilnehmer drei- bis viermal beim Aufstieg und auf der spektakulären Abfahrt erwischen, und das Panorama war einfach fantastisch: die Athleten, die Berge und das Meer.
The individual race on Sunday presented an entirely different setting, although one that was equally rewarding: the athletes, the mountains, and the sea. That's pretty much all you'll ever need for a great shot. And with just a few changes in position, you could see the participants three or even four times on the ascents and the spectacular downhill.
Die letzte Abfahrt hatte sich gewaschen. Eine steile, enge Abfahrt auf hartem, ruppigen Schnee. Im Renntempo eine ausgesprochen spektaktuläre Sache!
That last downhill was particularly spectacular. A steep, narrow descent on hard and very rough snow. Not that anybody slowed down even the tiniest bit!
Während die beiden noch weiter auf Lyngen blieben, durchquerte durch Lyngen und Troms bis zurück nach Tromsø – in Summe waren's letztlich knapp 80km, bei wechselnden Bedingungen von strahlendem Sonnenschein bis zu komplettem Whiteout und verregneten, stürmischen Nächten.
So while the others stayed on Lyngen for a little longer, I made the traverse back and continued onwards all the way to Troms, 80km in total. Luckily I had pretty good conditions most of the time. I only got rained out during the nights, and got into pretty bad whiteout conditions on the last day.
So bin ich mit etwas weniger Landschaftsbildern heimgekommen als erhofft, aber mit nicht weniger tollen Eindrücken und Erinnerungen. Und so ist das eben in Norwegen: man weiß nie so genau was die Natur vorhat, aber genau das macht auch den Reiz des Landes aus.
While I didn't find all the landscape photos I was hoping for (particularly because I was hoping for a few clear nights in the mountains), I still came back with tons of great memories. And that's how it is in Norway: You never know what the weather will be like tomorrow. Which is in part what's so great about this place.